Allinger Community Theatre
SEE UPCOMING EVENTS AND PURCHASE TICKETS ONLINE NOW!
JOIN US IN SPONSORING A THEATRE SEAT (See Seating Chart)
Allinger Community Theatre is a 99-seat state-of-the-art theatre although depicting the theme of an 1860's style theatre. Extra leg room in the seating and not a bad seat in the house. The theatre features amateur and professional performances as well as giving local talent performance opportunities. Dinner concerts with meals in the Scenic Trails Chuck Wagon on the Center's upper level with a performance following in the theatre makes for a spectacular evening. Contact us if you would like to sponsor a seat.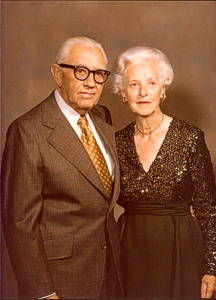 THE ALLINGER THEATRE IS DEDICATED TO THE MEMORY OF H. W. "JACK" & RUTH ALLINGER
Jack and Ruth's impact on Montpelier, Idaho is unprecedented. Jack founded and operated the long running retail department store Allinger Company in 1942. He was co-organizer of Bear Lake Memorial Hospital in 1950 and co-founder and first president of Tri-State Bank in 1963. He also was an active sportsman and was awarded the "Big Bear" award from the Montpelier Chamber of Commerce in 1970 for his outstanding contributions to the Bear Lake valley. Ruth Allinger was also involved in the community and many charitable activities and was married to Jack for 51 years.
This last legacy of Jack and Ruth Allinger will be remember by all who frequent this beautiful facility.
The board of directors and staff of the National Oregon/California Trail Center appreciate the Allinger Family Trust for its kind support in creating the Allinger Community Theatre.