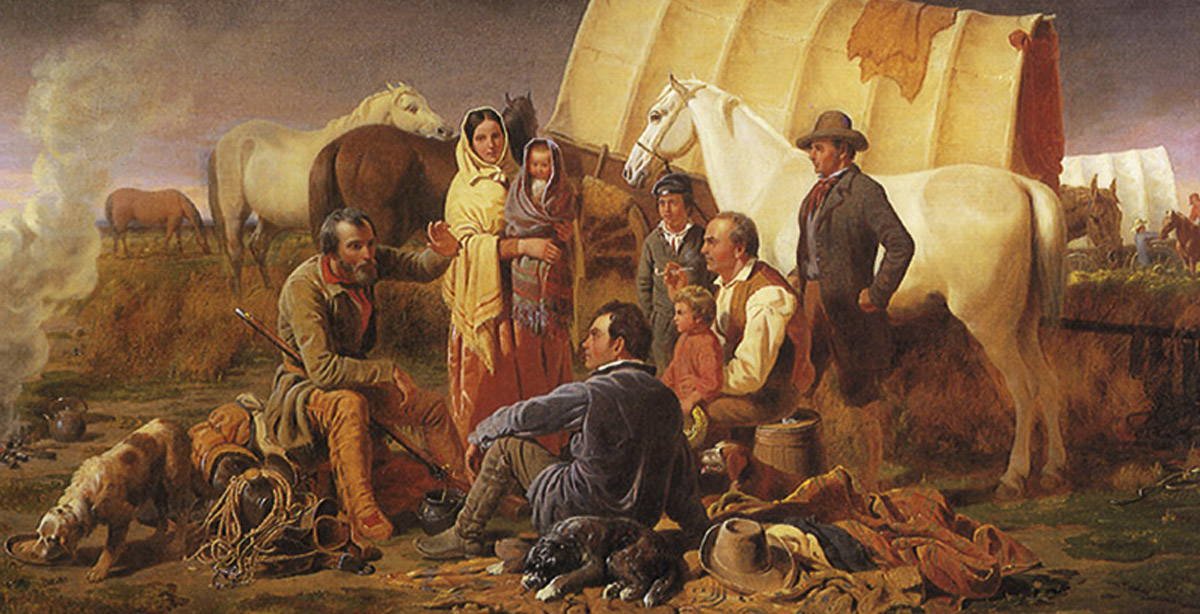 Photo: Advice on the Prairie By William Tylee Ranney, 1853
Pioneers talk about what they experienced while traveling through the Bear Lake Valley. What real pioneers saw & experienced in the Bear Lake Valley while traveling the original Oregon/California Trail.
Emigrants found the six mile wide Bear River Valley an oasis after many hard and dry days crossing western Wyoming. Here was grass, water, wildfowl, trout, elk, deer, wild berries, songbirds and cottonwood trees.
---
Following are selected comments by original Oregon/California pioneers as the passed through the Bear River section of the Oregon/California trail:
Journal Entries
Margaret A. Frink, 1850
Margaret Frink and her husband Ledyard traveled the Trail in 1850. Her diary is one of the best accounts of the Oregon Trail experience. Margaret was born in 1818 and married her husband in 1839. The Frinks had no children and lived in several eastern states before their decision to follow the gold trail to California in 1850. Upon arriving in California Margaret and her husband first settled in Sacramento. They lived in several parts of the state and spent the later years of their life in Oakland. Margaret died at the age of 74 in 1900.
These are excerpts from her diary as she traveled over "Big Hill" and through the Bear Lake Valley:
Friday, July 5: "… From here we drove on to the banks of the Bear River, some distance to the left, and took our noon lunch. Then we traveled on to Thomas Fork… The thermometer at noon showed eighty degrees."
Saturday, July 6: "We started at six o' clock, forded Thomas Fork, and, turning to the west, came to a high steep spur that extends to the river. Over this high spur we were compelled to climb… Part of the way I rode on horseback, the rest I walked. The decent was very long and steep. All the wheels of the wagon were tied fast, and it slid along the ground. At one place the men held it back with ropes, and let it down slowly. After coming to the valley. we drove to the river and rested some time for dinner. In the afternoon we went seven miles further, down the valley, and encamped at sundown by a beautiful stream…
Monday, July 8: It rained considerably during the night. Mr. Frink was on guard until two o' clock, when he returned to camp bringing the startling news, that for some unknown cause, the horses had stampeded. We had no means of knowing whether it was the work of Indians or not, but it was useless to look for them in the darkness… (the animals were found the next morning) When we arose, we found the range of mountains covered in new-fallen snow. This is a beautiful valley, and when under settlement and cultivation, will be a delightful region… At half past ten we passed a village of Snake River Indians (Shoshone)…"
– Covered Wagon Women: Diaries and Letters from the Western Trails, 1850
Abigail Jane Scott, 1852
Abigail Scott traveled the trail with her family that included nine siblings. Her father, Tucker Scott, assigned each older child specific duties for the trip. Abigail was given the task of keeping the family journal. Abbie was a slight girl who, after weary stretches of travel, would sit on the ground by the tent or near a wagon wheel with her book in her lap, while her father would give her "commands to keep the Diary correct." Often she was just too weary to write.
Excerpt from her Journal:
July, 16: " . . . We traveled through the Bear River Valley in the forenoon: This valley is one of great beauty being covered with good grass with mountains behind, before and on either side in plain view with groves of fir trees noding at their top; (and spots of snow visible in many places) This (valley) is tolerably fertile and looks as if itmight be well adapted to raising wheat; At half past two o' clock we came to two toll bridges build across a stream known as Thomas's fork of the Bear River; They charges us one dollar per wagon for crossing the two bridges.
During the afternoon our road was over the mountains and were quite slippery in consequence of light showers which fell at intervals during the day. We encamped near the Bear River and find good grass. The mosquitoes are troublesome in the extreme: passed four graves."
July 17: We came twenty two miles, traveling all day in the Bear River valley. The valley and mountains are covered with grass and the summits of the latter are adorned with splendid groves of fir making the scenery beautiful. We passed a (small) stream every few miles. The water runs very swiftly and is perfectly clear and very cold with a pleasant taste. A horse ran away today causing a train ahead of us to stampede."
– Covered Wagon Women: Diaries and Letters from the Western Trails, 1852. THE OREGON
J.T. Kerns, 1852
J.T. Kerns, a young farmer heading to Oregon, saw the Bear River Valley as potential farmland.
Excerpt from his Journal:
July 18: "Traveled up Thomas' fork of the Bear river, twelve miles to the ford and encamped on the west bank. Country nice and streams full of fish. Some good farms might be made along here, as the valleys are rich and the mountains high enough to preserve an eveness of temperature and supply of sufficiency of timber.
July 19: "This day drove 25 miles over a mountainous, picturesque country, possessed of rich valleys, beautiful springs, and streams abounding with fish. Timber is, however, scarce for to supply the demands of a farmer."
Polly Coon, 1852
Polly's husband Thomas was already in Oregon when she started west in 1852 with her four year old daughter Cornelia. Polly kept her thoughts and feelings in her journal as she crossed the plains with a group of her relatives.
Excerpt from her Journal:
July 18: " . . . reached Bear river valley tonight & and camped one half mile from Smiths fork. We were visited by Indians of the darkest hue of any I have ever seen.
July 22: Camped about 10 o' clock on Bear river for the purpose of lying over for a few days to rest our cattle who are very much jaded. Mr. Fleming one of our Co. lost a very nice ox last night . . .

July 26: Left our camp on bear river very much recruited both ourselves & teams, & passed on to Thomas' Fork.
July 28: Reached "Soda or Beer Springs" and camped near them. Several of us visited them. They were a great curiosity."
– Covered Wagon Women: Diaries and Letters from the Western Trails, 1852. THE OREGON TRAIL.
Joseph Goldsborough Bruff, 1849
Joseph Goldsborough Bruff, captained the Washington City Company wagon train in 1849. By July, he was completely disgusted, discouraged and disappointed with his company, but was very pleased upon reaching the Bear River - so pleased that he caught several fat black mice and made a mouse pie.
Excerpt from his Journal:
August 12: "After dinner the Panaks came (Bannock Indians) again. They spoke several words of English. A party of these chaps; a young man on a very fine pony, a youth and an old man of a fat black mule, and a middle aged squaw on a mare. – They offered the squaw to us for a copper powder flask. Hauled the seine, and caught a number of suckers and trout. Captured several fat black mice and had a pie. – This broad bottom, for miles is the scene of animated life, enough to make one forget it is a wild country upwards of a thousand miles from our western frontier. – Band of oxen and mules grazing about, and cows among them, the tinkling of their bells, improving the semblance to a domestic scene. The bushes and grass covered with washed clothes; men, in groups conversing or reading; others rambling across the meadows and hillsides; and some bathing, fishing and gunning
A man and his wife, with tin pales, went from an adjacent camp, over the plain a mile, to a band of cattle, and returned with their buckets full of milk. – A delightful, lively scene, – only needed 2 or 3 cottages to complete the picture. The beautiful evening was enlivened with instrumental and vocal music."
Enoch Conyers, 1852
Enoch Conyers, like so many others was impressed with the Bear River Valley's fine grass and potential for farm land.
Excerpt from his Journal:
July 21: "On the bottoms of the Bear river is found the best grazing we have had on the whole journey. If this country were ever settled fine farms could be had here."
John C. Fremont, August 1843
Government explorer and pathfinder, John C. Fremont viewed emigrants camped along the Bear River and made these comments
Excerpt from his Journal:
July: " . . . a picture of home beauty that went directly to our hearts. The edge of the wood, for several miles along the river, was dotted with the white covers of emigrant wagons, collected in groups at various camps, where the smokes were rising lazily from the fires, around which the women were occupied preparing the evening meal, and the children playing in the grass; and herds of cattle grazing about in the bottom, had an air of quiet security, and civilized comfort, that made rare sight fort the traveller in such a remote wilderness."
Maria Belshaw, July 1853
Maria and George Bleshaw of Indiana, were like thousands of other American families who made the epic overland journey to establish a new life in the Willamette Valley of Western Oregon.
Excerpt from her Journal:
July 19: "Came to Thomas Fork at noon – good feed here. . . we came to the spur of the mountain as the guide calls it . . . We were all afternoon going up and coming down. A spring on the mountain to left of road. Traveled down the valley till noon. Camped 50 rods from River, one mile from the road to left. Good feed. Traveled 22 miles."
July 20: " Traveled down the valley, the river and mountains on the left a portion of the valley and green covered mountains on right. . . Good level roads cool day. The sick better. Passed 2 dead cattle 1/2 mile from road one mile from river. . . ."