Bear Lake Lake's crystal, turquoise blue waters stretch 20 miles in length and 8 miles in width.
Bear Lake is a large natural lake that straddles the Utah/Idaho border. It is at least 455,000 year old and has a unique history and ecological significance. It was home to the Mammoth, Shoshone Indians, Mormon pioneers, cattle ranchers and now water recreationalists. Its unique water chemistry creates azure blue water. There are four fish that are found nowhere else in the world, in addition to some of the largest Cutthroat trout observed. It has a rich heritage, outstanding beauty and a diverse ecology and culture.
Bear Lake is located within the central Rocky Mountain region and is at an elevation of 5,923 feet. Its crystal, turquoise blue waters stretch 20 miles in length and 8 miles in width.
The lake covers 112 square mile and has 48 miles of shoreline. Its maximum depth is 208 feet. Bear Lake is noted for its fine fishing. Fish species include: Bear Lake Cutthroat Trout, Lake Trout (Mackinaw), Bonneville Cisco, (endemic fish), Bear Lake Whitefish (endemic fish), Bonneville Whitefish (endemic fish), Bear Lake Sculpin (endemic fish), Utah Sucker, Utah Chub, Carp, Yellow Perch, and Rainbow, Brook and Brown Trout. Bear Lake is located 125 miles from Salt Lake City and 180 miles from Yellowstone National Park.
Recreation in and around the lake include: hiking, swimming, water skiing, water sports, boating, sailing, mountain biking, bird watching, snowmobiling, down hill skiing, cross county skiing, camping, fishing, golf, horseback riding, guided tours and shopping.
Bear Lake Lodging, Camping and Vacation Guide
Southeast Idaho Vacation Guide - Lodging, Hotels, Camping, Events and Recreation
Bear River Heritage Area - Idaho & Utah History Tour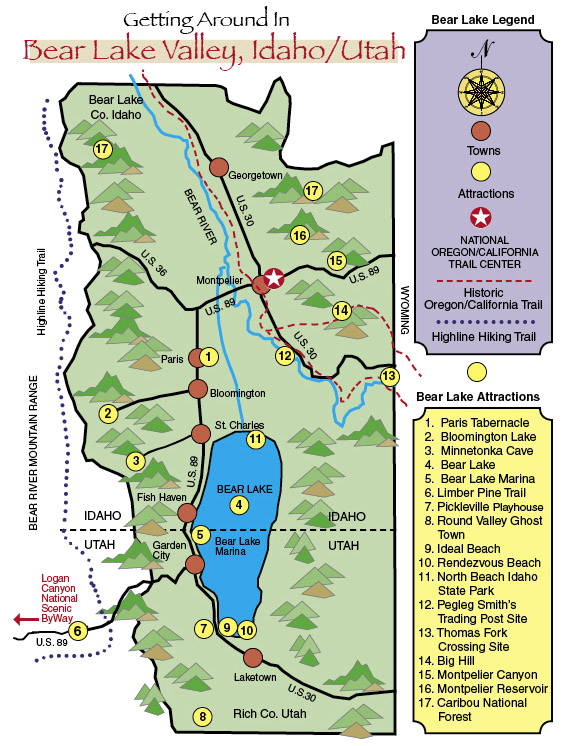 ---
WATER SPORTS
Bear Lake has over 160 square miles of turquoise-blue water just made for sailing, boating, water-skiing, swimming, jet skiing and scuba diving. Seven boat ramps are located around the lake. Bear Lake State Park Marina has 305 boat slips and a 5-lane boat ramp. Around the lake you'll also find some great beaches for swimming, sunbathing and picnicking. Find Bear Lake Recreation
---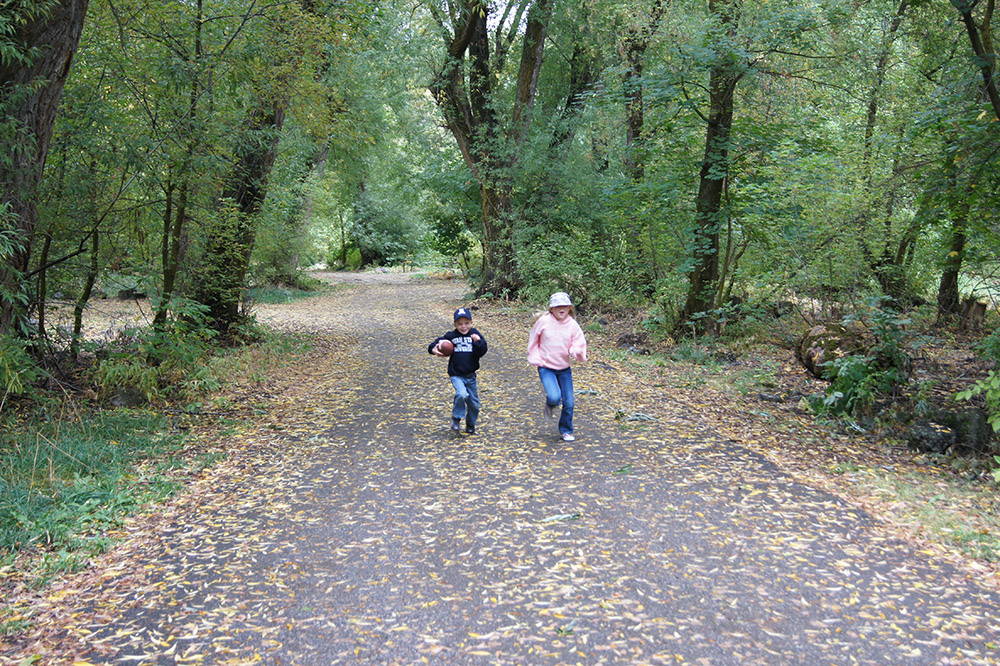 LOGAN CANYON NATIONAL SCENIC BYWAY
This beautiful scenic national byway, begins at the mouth of the canyon, east of Logan, Utah and follows 41 miles of the meandering US-89 to Bear Lake. It is host to many summer and winter activities such as hiking, camping, fishing, snowmobiling, skiing and hunting. The canyon is known for its deeply-cut, nearly vertical limestone walls and rock formations. The Logan River, a blue ribbon trout stream, parallels the highway. During autumn, the lush greens of this high country passage become tipped with brilliant gold, red yellow as the leaves turn toward winter. The route travels through the spectacular Wasatch-Cache National Forest. This route is popular among those traveling to Jackson Hole amd Yellowstone National Park. Elevations within the canyon vary from 4,700 feet at the mouth to nearly 7,800 feet at the summit, where visitors are treated to a sweeping panoramic view of Bear Lake. Logan Canyon Byway
---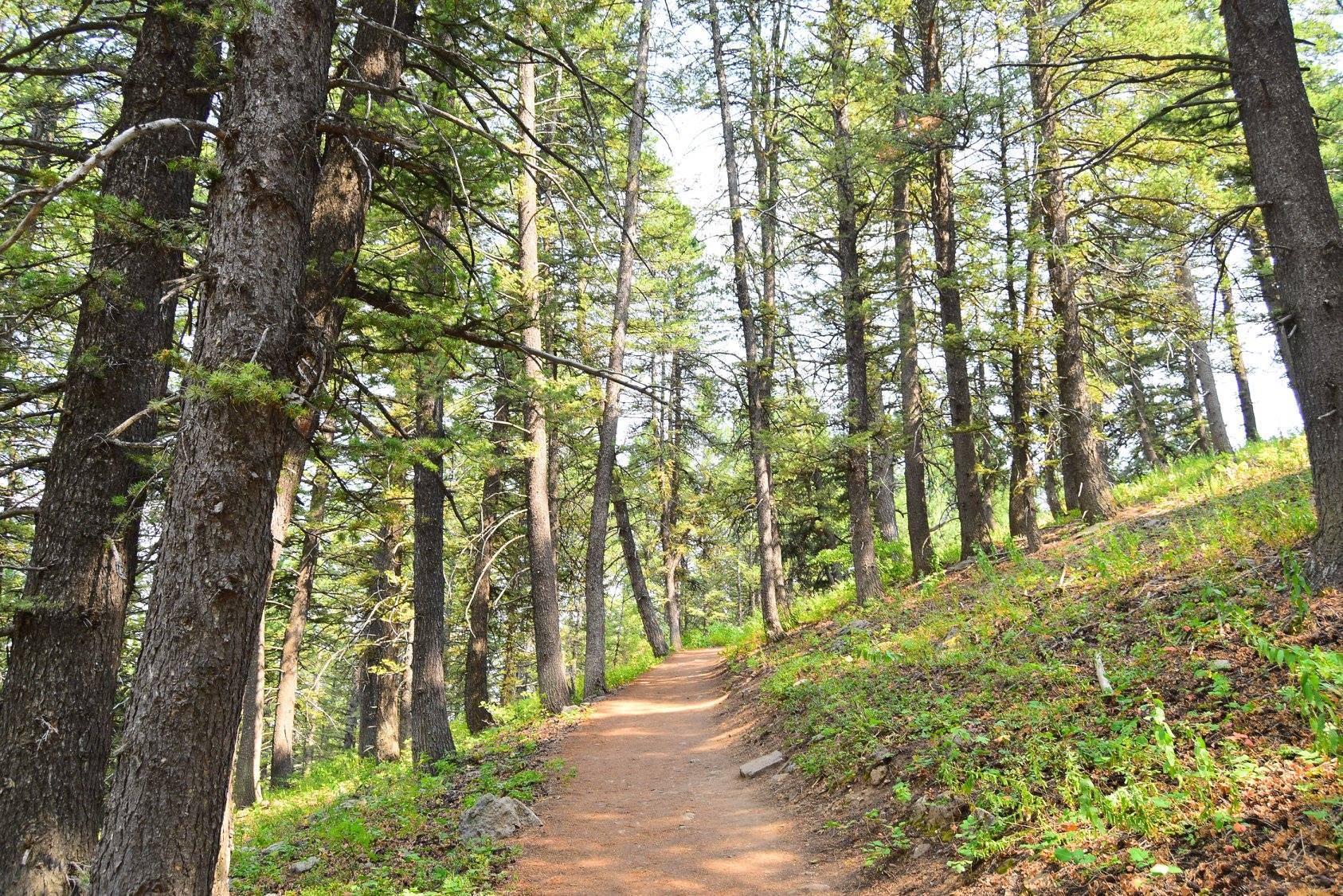 LIMBER PINE TRAIL
The trail uses a series of switchbacks to navigatean elevation changes of about 80 feet as it passes through the fir and aspen forest and meadows abundant with wildflowers even in high summer. Interpretation sites along the way point out local nature to the hiker.The trail is at 7,800 feet this is the high point of the Logan Canyon National Scenic Byway. The trail is an easy one-mile loop trail perfect for families with children.
The goal is a large limber pine, which is actually several trees grown together. It is much older than most other trees in the area, and in fact was once believed to be the oldest and largest limber pine in the country. There are fine views of Bear Lake from several points along the trail. Bear Lake Hiking & Biking Trails
---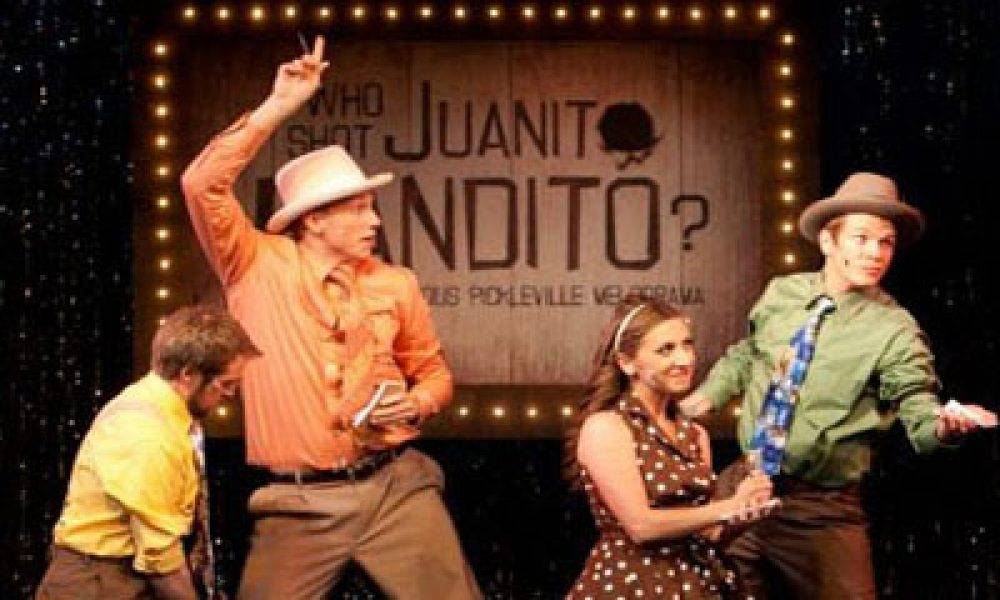 PICKLEVILLE PLAYHOUSE
Come enjoy a night of entertainment at the Pickleville Playhouse. Start the evening off at the famous western cook-out, where you'll enjoy a hugewestern meal with your choice of rib-eye steak, lemon herb chicken, or BBQ roast beef. With your belly full, enjoy a live stage production in Pickleville's historic log theater. It'll be a night of family entertainment you'll never forget! Available late June through Labor Day, South Bear Lake Blvd, Garden City, UT (435) 946-2918 or (435) 755-0961. Pickleville Playhouse
---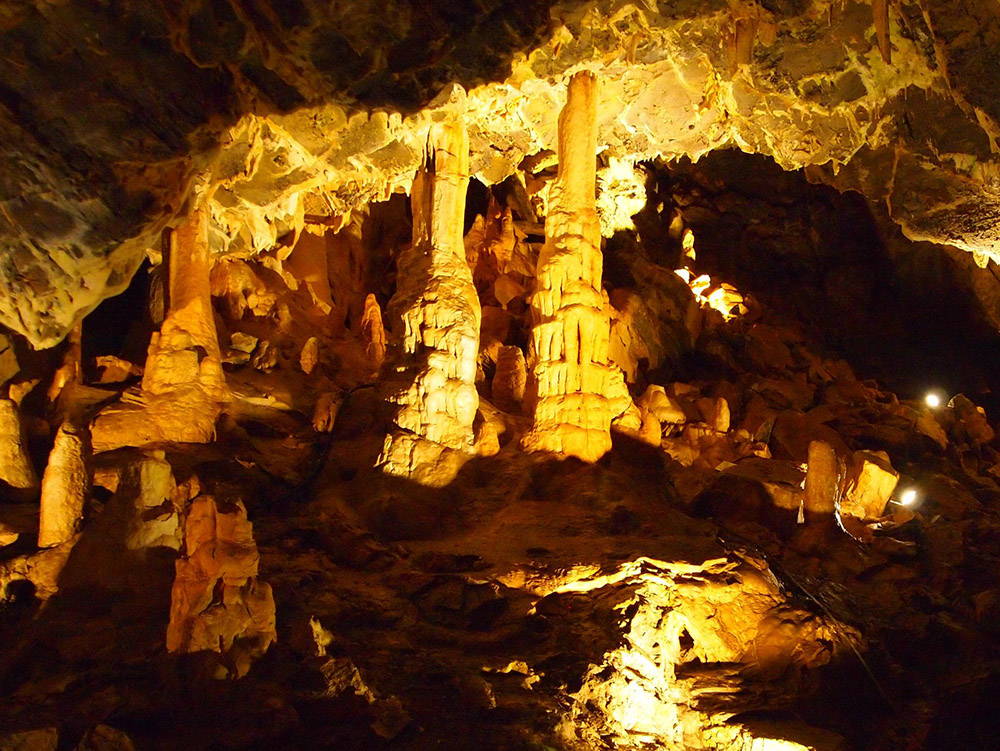 MINNETONKA CAVE
Minnetonka Cave is the largest commercially developed limestone rock cave in the state of Idaho, and one of the highest, with an entrance elevation of 7,700 feet. The developed part of the cave contains nine separate "rooms" or chambers. The largest of these chambers is called the Ballroom, measuring more than 300 feet across and 90 feet high. Some of the cave's most interesting features are the deposits of lime which form stalactites and stalagmites. Many of these interesting formations have been given names, such as the "Ballerina," and the "Bride and Groom." The oldest (and largest) of these are the "Three Sisters." Other intriguing formations are known by some as the "Wedding Ring", the "Gold Coins" in the Treasure Room chamber, "Miss Piggy's Tail" and "Kermit's Castle."Enjoy a guided 90-minute, half-mile walk into this beautiful cave. Be prepared for the 400 steps up and down in the cave and bring a jacket, since the cave is a cool 40 degrees year round. The road up St. Charles Main Canyon is paved to the mouth of the cave. Minnetonka Cave
---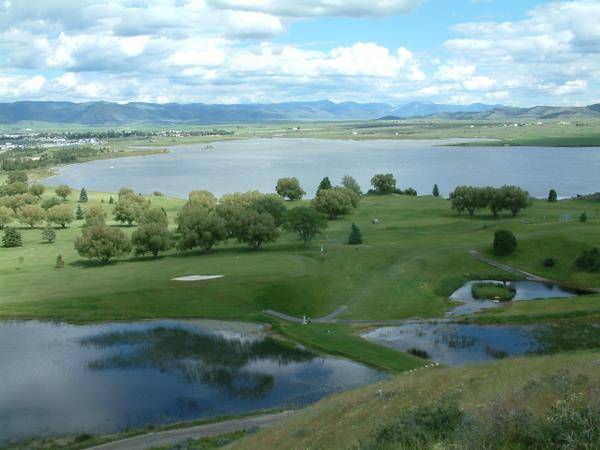 PIONEER HISTORIC BYWAY
The Pioneer Historic Byway traverses through southeastern Idaho's Franklin and Caribou Counties. The 127-mile corridor begins at Idaho's oldest town of Franklin on the Idaho-Utah state line and winds northward through rich historic and cultural sites, ending at the Idaho-Wyoming border. As the byway stretches north, visit a mixture of high desert and spectacular geologic vistas, mountains and a remote bird sanctuary. National Pioneer Historic Byway
---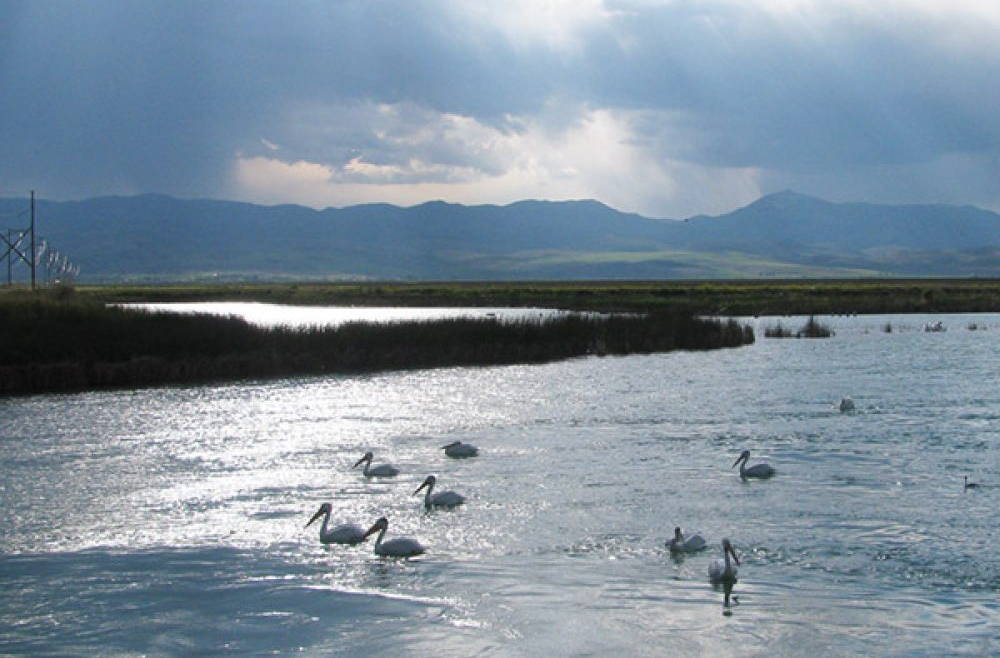 OREGON TRAIL BEAR LAKE SCENIC BYWAY
The southern end of the Oregon Trail-Bear Lake Scenic Byway winds its way along the turquoise-blue waters of Bear Lake the gem of Southeast Idaho. Bear Lake straddles the Idaho-Utah border and boasts sandy beaches, great water sports, fishing,boating, and the famous Bear Lake State Park. The Lake has been a popular recreation area for generations. Along the drive, visitors will pass many historic towns, some nearly forgotten. Nevertheless, the buildings erected by the earliest settlers of this territory still stand as a monument to the culture of an expanding country. Architecture from a different age can be found in buildings throughout the byway. Often, travelers will find displays that retell the stories of sites and the people who made them significant. Oregon Trail/Bear Lake Scenic Byway
---
BLOOMINGTON LAKE
Bloomington Lake is a glacier-fed mountain lake surrounded by limestone cliffs. This small glacial lake is located in a spectacular setting of cliffs and waterfalls. During the summer, wildflower surround this clear mountain lake. The way to the lake is a hiking, biking and horse trail. Drive or hike via a rough, unpaved road. Visit Bloomington Lake.
---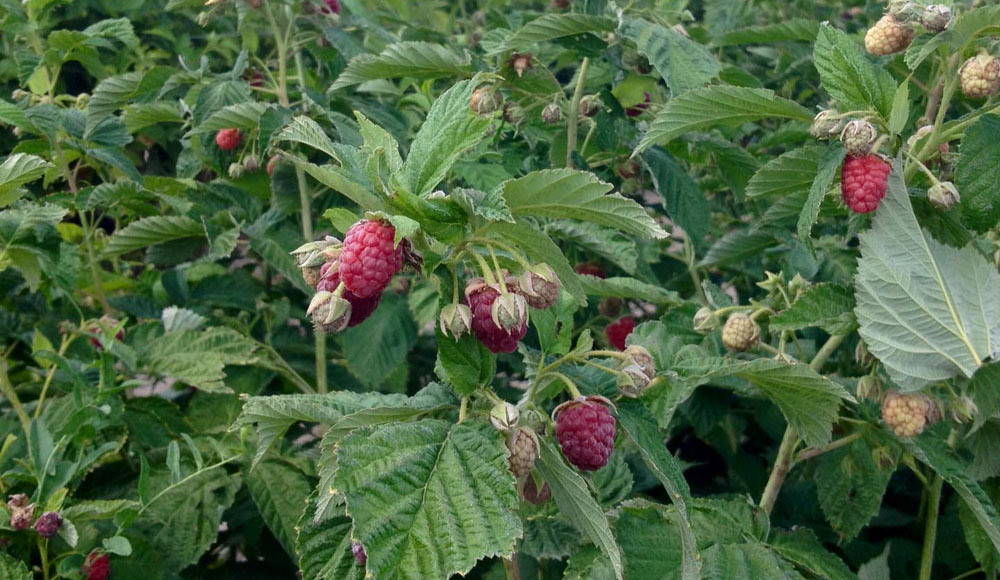 RASPBERRIES
Bear Lake raspberries are a delightful treat in season, and Garden City's raspberry shakes are world famous. The harvest of the delicious raspberry crop during August brings tourists from all across the U.S. and the world to sample these succulent treats. Come join in the festivities with craft booths, parade, rodeo and fireworks. But you can treat yourself to a famous Bear Lake raspberry shake all summer long, which are available at most drive-ins around Bear Lake.
---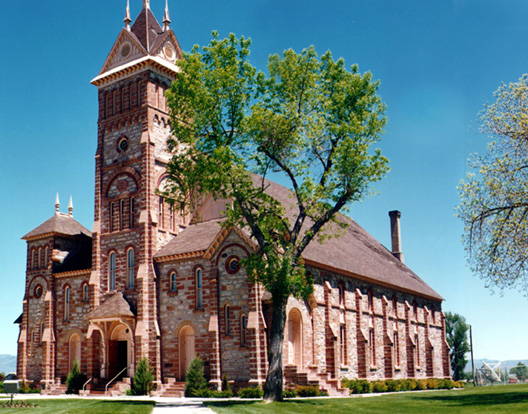 PARIS TABERNACLE
This place of worship is recognized as one of the true pioneer landmarks of the West and is listed in the National Register of Historic Places. In 1889, this Romanesque Mormon tabernacle was constructed of red sandstone that had to be transported by wagon or sled from a quarry 18 miles away. A free, self-guided tour reveals intricate wood ceilings and stone carvings. A small museum houses heirlooms and objects of art left by the homesteaders.
Materials for the imposing Victorian structure, with its six-story bell tower, were gathered from the surrounding countryside. Red sandstone, the principal material, was quarried eighteen miles away, and hauled around the lake by horse and ox teams. The stone cutting and carving were done by a family of Swiss masons, recently arrived in Utah. All of the wood used in the structure, including the shingles, was cut in the canyons nearby. Most of the work was done by the Mormon settlers themselves, each contributing his own skill. A number of fine craftsmen in wood shaped the interior detail; especially noteworthy is the work of James Nye on the pulpit and choir ceiling. Overall dimensions are 127'6" x 73'4". Google Map of the Paris Tabernacle
---
SODA SPRINGS
Soda Springs is the hub of the Bear Lake Caribou Scenic Byway and the Pioneer Historical Byway in southeast Idaho. For travelers of the mid 1800s, the soda springs that bubbled through the calciferous soil of the area were a welcome rest stop along the Oregon Trail. Today Soda Springs is a beautiful town with a very high quality of life for adults and youth. It is still like "What America used to be". Soda Springs is a close-knit community with a friendly neighborhood feeling. The community is dedicated to providing youth a supportive atmosphere for growth and learning.
Soda Springs boasts the largest man-made geyser in the world and was featured in "Ripley's Believe It or Not." The geyser, in downtown Soda Springs, goes off every hour on the hour.
Soda Springs Lodging and Recreation
---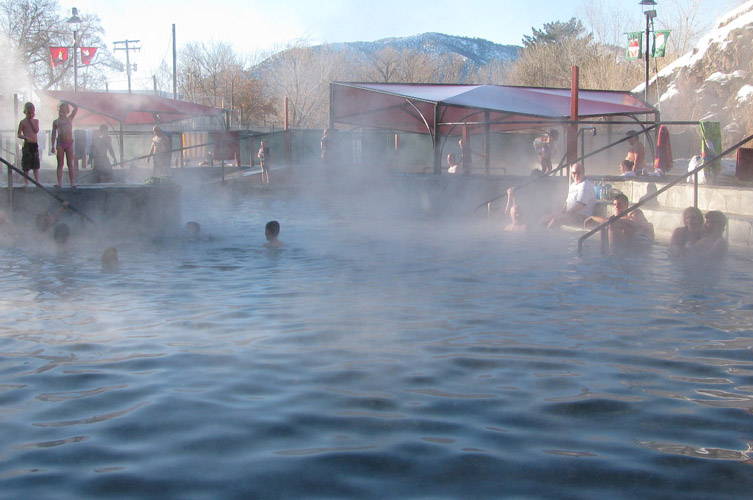 LAVA HOT SPRINGS
Native Americans, Mountain Men, and Pioneers have enjoyed Lava's natural hot springs throughout history. Over 3 million gallons a day course through the springs and are diverted into the Portneuf River keeping the springs ever changing and clean. The spring's temperatures range from approximately 102 to 112 degrees. Bubbling out of natural underground springs, the hot water is laden with Minerals, but has no sulfur and therefore no bad odor. Lava Hot Springs Swimming Complex features two Water Slides, 2 Swimming Pools, 7 Diving Boards, 3 Diving Platforms and a pool gator. Other activities include wild tube rides on the Portneuf River, shopping, golfing, fishing, biking, and dining. Lava Hot Springs Water Park and Hot Pool Vacation Resort
---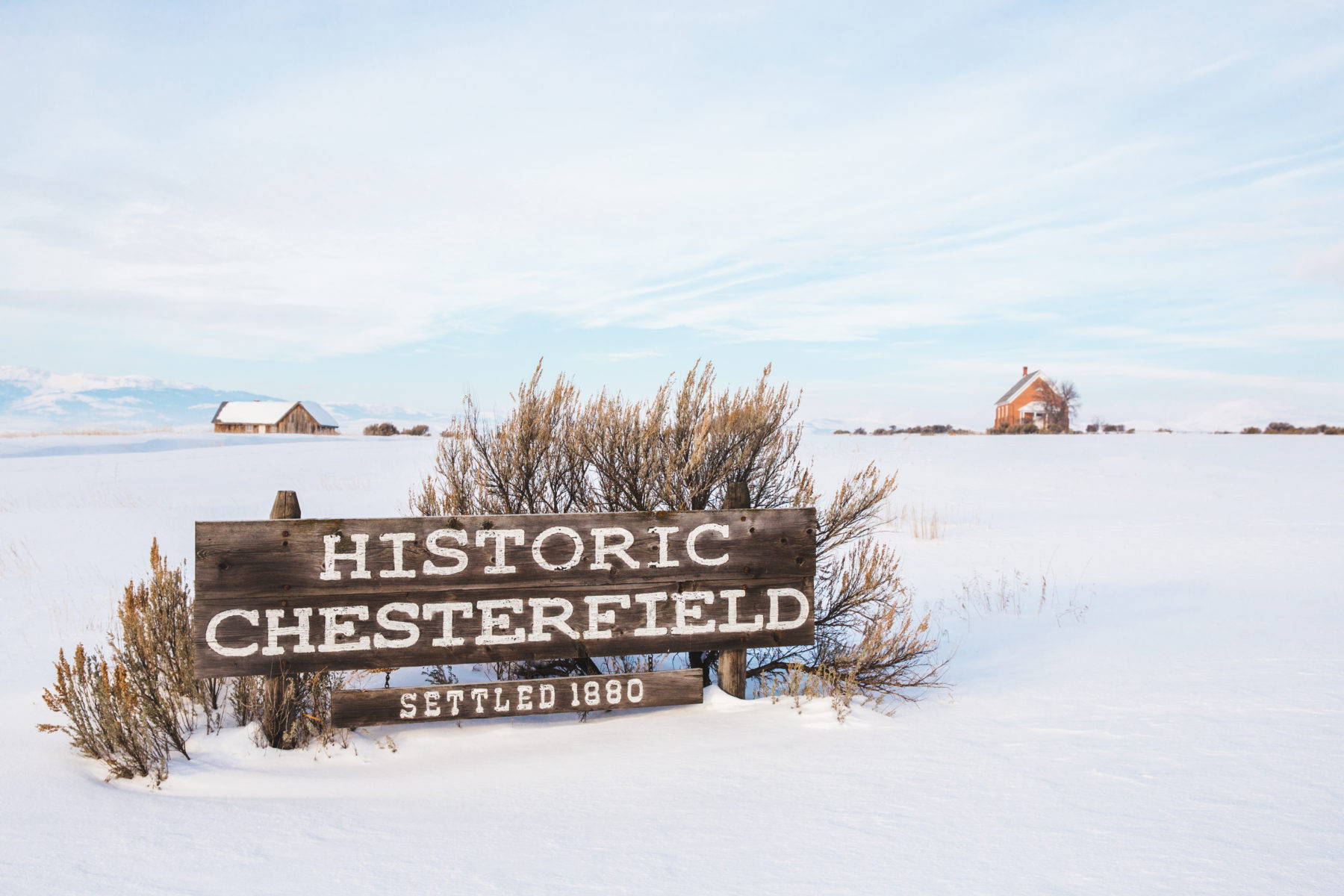 CHESTERFIELD
Chesterfield is a Mormon pioneer town founded in 1880 along the Old Oregon Trail in southeast Idaho. A visit to Chesterfield is a unique trip back in time and a chance to experience the rural agricultural life of a community whose deep faith helped them endure the hardships of life on the frontier. Now unoccupied, 27 structures overlooking the beautiful Portneuf Valley near Bancroft are being restored by descendants of the early settlers and volunteers. The meeting house now is a museum and tours are available. This is a special experience for youth groups, school groups, family reunions, and family groups. Chesterfield is listed on the National Register of Historic Places. Chesterfield Foundation
---